The L5200, from Equinox Payments, is a signature capture PIN pad with 4.3" full-color, brilliantly crisp interactive multimedia display, integrated keypad with side lighting, audio speaker and audio port. The L5200 is a more compact version of the L5300. It connects via USB or Serial.
The L5200 is available from select distributors today with a version of FPE that is EMV-ready.
Here's what you'll need to order:
Equinox L5200 (010369-612E)

Serial Cable (810408-002)

USB Cable (810371-001)

Power Cable (810003-007; Required for both)

Power Supply (870066-004; Required for both)

FPE Application (See Chart Below)

Debit Key Injection (Key provided by processor/loaded by distributor)

E2E Key (See chart below for processor-specific E2E keys)

Datacap Forms Package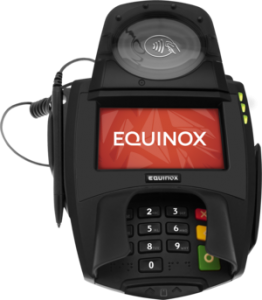 Equinox L5200 PIN Pads can also be ordered from the distributors below – these distributors currently have access to the EMV-enabled version of FPE for the L5200, allowing for an EMV-ready installation.
The L5200 is US EMV certified with the following Processors and Datacap products today:
Processor-Specific Secure Device IDs
Processor
Application Load
SecureDeviceID
Encrypted (recommended)
Non-Encrypted
Chase
FPE 7U584
N/A
EMV_L5200_PAYMENTECH
Worldpay Integrated Payments (MercuryPay)
FPE 7U584
EMV_L5200_MERCURY
N/A
Learn more about the Equinox L5200