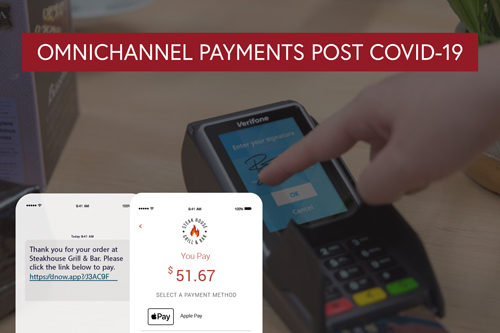 The year 2020 changed has forever changed how retailers, restaurateurs and other merchants will accept payment. Consumers wanted – and expected – the ability to pay online, via mobile app, with contactless cards or mobile wallets, or in-person with EMV chip cards. Most of all, they expected the choice to pay in ways that were most convenient or made them feel most secure during social distancing.
To respond to this demand, merchants adapted their operations to meet those expectations by introducing or enhancing existing processes, such as:


Buy Online Pickup In Store (BOPIS) and curbside pickup
In 2020, many more consumers minimized the time they spent in stores by making orders and payments online and picking up their merchandise or grocery orders. A survey by Qudini, a platform that enables contactless order pickups, found that 62 percent of consumers are embracing BOPIS, 50 percent are more likely to use the services since the pandemic began.


Online ordering and payments
Before the pandemic, restaurant online ordering was a significant trend, with digital ordering growing 300 percent faster than on-premises dining. The pandemic accelerated it even more. Upserve reports that from February to April 2020, there was an 840 percent increase in weekly online ordering sales.


QR code and text-to-pay
QR codes provide an easy way to create a touchless payment experience. There's nothing for the consumer to download – they simply scan a code with their smartphones to pay. Driven in part by the pandemic as well as platforms such as WeChat, global QR code payment users are expected to grow to more than 2.2 billion by 2026.


Subscriptions and recurring payments
Some innovative merchants provided their customers with the convenience of automatically sending groceries, shipping consumable items, and providing cleaning or landscaping services – and moving payment experiences to the background with recurring payments.


Streamline These Processes with Omnichannel Payments Solutions
Merchants implementing offering new ways for customers to engage will need the right tools to manage them – everything from using the features of their point of sale (POS) systems to adding inventory, labeling, or scheduling functionality. However, one thing all merchants need to offer these services most efficiently is an omnichannel payments solution.
One unified, omnichannel payments platform gives your clients the flexibility to meet their customers' demands while managing payments from a single platform. Omnichannel payments can also help make these new services more efficient. For example, one platform for payments on all channels can make returning an item for a refund after it was purchased online quick and easy.
Merchants can also benefit from the data that an omnichannel payments platform provides. One platform that collects payment data from all channels can provide merchants with a total picture of their customers' behaviors and preferences. Those insights can enable even small merchants to market and merchandise smarter and make data-based decisions to navigate their businesses through the crisis.
An omnichannel payments solution also offers your clients benefits beyond helping to do business during the pandemic. One unified, omnichannel payments platform is the most efficient way to manage all types of payments on all channels, minimizing the time the back office must spend reconciling books and closing out each day.
In addition, consumers are likely to take a while to be comfortable with in-person interactions as they were before COVID-19, so they still want options that enable them to keep their distance and minimize touch and contact. An omnichannel payments platform gives your clients the flexibility they need to adapt to their customers' expectations.


There's No Telling What the Future Will Bring
In 2020, merchants learned that circumstances can change quickly, and they need technology that enables them to adapt to stay in business. Providing your clients with flexibility as well as functionality through a robust POS system, value-added services, integrations, and an omnichannel payments solution will help them recover and be ready for whatever lies ahead
Add Omnichannel Payments to your Solutions!