The VX 820, from Verifone, is a cost-effective PIN pad with a high resolution 3.5" color touchscreen and backlit keys to ensure readability in any environment. It can connect via Serial or USB. 
The VX 820 is available from select distributors today with a version of XPI that is EMV-ready.
Here's what you'll need to order:
Verifone VX 820 (M282-703-C3-R-3)
XPI Application (See chart below)
Processor Encryption (processor-specific)
Power Cable (PWR282-001-01-A) & Serial Cable (CBL282-031-02-A)
OR Powered USB Cable (CBL282-038-01-A)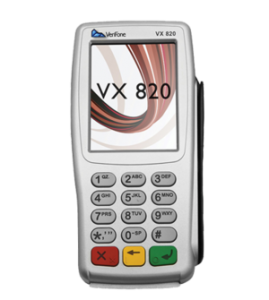 Verifone VX 820 PIN Pads can also be ordered from the distributors below – these distributors currently have access to the EMV-enabled version of XPI for the VX 820, allowing for an EMV-ready installation.
The VX 820 is US EMV certified with the following Processors and Datacap products today:
Processor-Specific Secure Device IDs
Processor
Application Load
SecureDeviceID
Encrypted (recommended)
Non-Encrypted
Chase Canada
XPI 12.08.16
N/A
Paymentech1
Global Payments US
XPI 12.05.13
N/A
EMV_VX820_GLOBALPAY
Global Payments Canada
XPI 12.07.05
N/A
Global1
Worldpay Integrated Payments Canada (MercuryPay)
XPI 12.07.05
N/A
Global1
Learn more about the Verifone VX 820