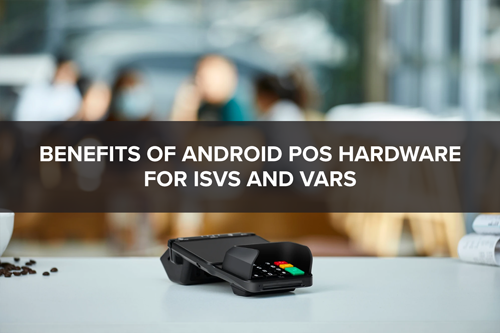 Merchants are implementing mobile point of sale (POS), including Android POS hardware and software solutions.  Less than a year ago, ResearchandMarkets.com estimated that the global mobile POS device market's value was $41.45 billion. Today, analysts estimate the market at $45.33 billion and expect it to reach $71.78 billion by 2027, growing at a CAGR of over 9 percent.
While the COVID-19 pandemic was the catalyst that accelerated change, the shifts in consumer behavior retailers and restaurateurs are experiencing began well before the pandemic. Long wait times, limited payment options, and inefficient processes drove consumers to seek out more convenient experiences. Early adopters of omnichannel payment platforms, mobile POS, and online ordering options reaped the rewards before and during the pandemic.
Now, mobile POS is no longer a differentiator. It's a must-have to compete in the marketplace. Mobile POS speeds up payment interactions, allowing customers to check out anywhere inside a retail store without waiting in long checkout lines. Quick service restaurants (QSRs) can take orders quicker by equipping employees with mobile POS tablets in the drive-thru lanes. From providing consumers the ability to buy online and pickup in-store or curbside while paying via convenient methods and selling at pop-ups and street sales, mobile POS makes it all possible.
Advantages of Android POS Hardware
Merchants sold on mobile POS need to decide which devices, operating system (OS), and software to choose for their businesses. Popular OS choices include Android, iOS, and Windows; however, Android POS hardware offers several benefits.  
Android is open source: More systems and devices can integrate with Android POS hardware than with proprietary iOS and Windows systems.


Connectivity options: Android POS hardware can use a Wi-Fi connection or can be hardwired, providing merchants optimal uptime.


Automatic updates: Merchants, particularly small and medium-sized businesses (SMBs), don't have full-time IT resources on staff.  Automatic Android OS updates that occur in the background automatically can make managing IT a little easier for businesses.


Range of Hardware Options: Android POS hardware gives merchants more options at a wider range of price points than hardware designed for other operating systems. If your client needs space-saving solutions, there's a device for that. Harsh environment? Choose a rugged device capable of functioning in extreme temperatures. Have legacy mobile devices been too heavy and bulky for your team? Android has you covered with a range of ergonomic, easy-to-carry devices.


Value and affordability: Android mobile devices generally cost less than other options. At a time when every penny counts for businesses, Android POS hardware can make deploying mobile POS affordable.
Give Your Clients the Option
Independent sales vendors (ISVs) and their value-added reseller (VAR) channels should find ways to give their clients a choice of the type of mobile POS hardware they use rather than locking them into one OS. For some merchants, the advantages of Android will align best with their business; for others, it won't.  However, offering Android POS hardware and software solutions gives your clients the choice.
It can also help you stay competitive. ISVs and VARs could disqualify themselves from sales by not providing potential clients with Android-based solutions. While it may be easy or convenient to offer only one line of products, it will become increasingly limiting to your business growth. Know the benefits that Android POS hardware can provide, and make sure to include it as an option on your line card.
Add support for Android POS hardware for your Point of Sale!