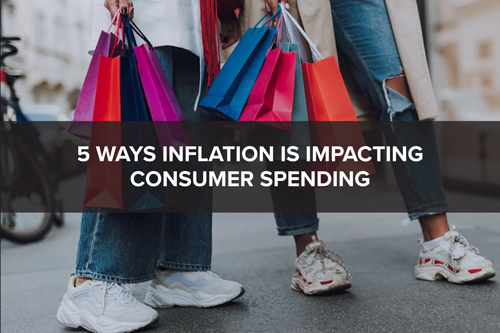 With inflation reaching a four-decade high, two-thirds of consumers are intentionally cutting back on discretionary spending and seeking less expensive options in categories like gas and groceries that are hit hardest by inflation. As Q4 approaches, these trends will impact consumer spending during the holiday shopping season.
Areas that could particularly see a drop in revenue include restaurant and entertainment businesses that reaped the rewards after all-day shopping events when consumers would decide to dine or catch a movie before heading home.
The good news is that while inflation has impacted consumer spending, it hasn't stopped it altogether. Retailers and restaurateurs can win market share by pivoting their approach to what matters most to consumers at this moment.
How Consumer Spending is Changing
Businesses that can adapt to changing consumer behaviors will reap the rewards, but it will take effort, action, and creative partnerships. Discuss these trends with your clients and how they can align their business models and processes with them.
1. Loyalty Rewards
Loyalty rewards have incented shoppers for decades, but they're even more important now that they can help ends meet. In addition to enabling consumers to earn rewards for future purchases in-store, retailers are seeing benefits from partnerships. In an era of inflation, businesses that sell products viewed as discretionary may find that they'll encourage traffic if they give rewards points for essentials. A prime example is forming a partnership between a retailer and a gasoline chain. The points toward fuel purchases may influence consumers to shop with that retailer to ease some of the pain at the pump.


2. Going Vintage for Holiday Gifts
Thrift and consignment shops may see an increase in traffic for the holidays, particularly since 68 percent of consumers are willing to shop at discount stores if inflation continues to rise. These businesses may need additional help with point of sale (POS) and payment solutions that can keep up with greater demand this year.
Keep in mind, though, that businesses that don't fall into this category may also benefit from this trend by adding "throwback" lines and selling items on consignment to boost sales.


3. Avoid Shipping Charges
When prices rise, consumers will look for ways to keep total costs within their budgets. One strategy, which 72 percent of consumers plan to implement, is to avoid paying for shipping. While this may be part of e-commerce enterprises' business models, it may be harder for small and medium-sized businesses (SMBs) expanding into e-commerce to absorb shipping costs for online purchases.
One way to give consumers a way to avoid shipping is to offer options like buy online, pickup in store (BOPIS) and curbside pickup. This process also has the advantage of allowing customers to get their purchases more quickly, as long as they're in stock in the store.


4. Watching Movies at Home
Consumers are cutting down by as much as 10 percent when it comes to spending on entertainment experiences, with more than 70 percent opting to watch movies at home, and 58 percent considering canceling entertainment subscriptions altogether.
To win consumer spending in the entertainment vertical, businesses will need a mix of creativity and service. For example, venues experimenting with gaming platforms like Roblox to stream movie screenings or live concerts can open the virtual door to ticket sales from consumers quick to stay home.
Additionally, this is a key opportunity for subscription model businesses to take a closer look at the payments experience – and for those without one to consider adding one. With more consumers staying home for entertainment, subscription services will see more users, underscoring the need for easy and convenient recurring payment experiences.


5. Looking for Low-Cost Luxuries
Retailers may notice that although consumers are putting off high-value purchases, they may be turning toward smaller luxuries. Sales data can reveal what a retailer may be able to capitalize on, such as keeping fragrances, candles, candies, or costume jewelry near the checkout to boost average ticket size.
Expand Your Knowledge to Be a True Trusted Business Advisor
Your clients turn to you for insights into their markets or niches, as well as for advice on point of sale and payments technology. Stay alert to trends that you see working in your space and share that information with your clients. That intel can help them win more sales and market share and weather an economic downturn. It will also help you build stronger relationships with your clients, who will recognize the value of your partnership.
Inflation and changes in consumer spending will require thinking outside the box, but when your clients find the right strategy, they can continue to thrive.
Add Omnichannel Payments to your Solutions!