Value-added resellers (VARs) and independent software vendors (ISVs) with an eye on growth are finding opportunities to provide unattended payments for self-service solutions. The global self-service kiosk market is anticipated to grow by USD 3.33 billion, with 41 percent of that growth predicted for North America. The market trajectory has merchants primed to implement unattended payments to meet the rising self-service demand, particularly within these five key verticals
1. Quick Service Restaurants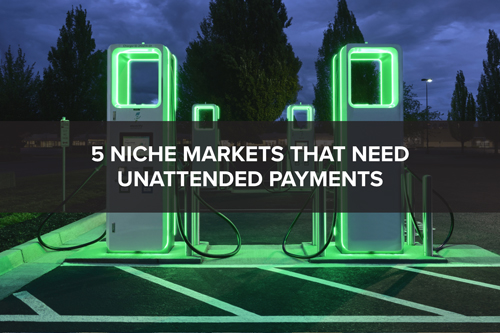 Self-service kiosks are changing the quick service restaurant industry. They offer consumers a fast, convenient, and accurate ordering experience while giving restaurants a consistent method of upselling to increase average order totals. Additionally, they provide merchants with data that helps them grow their businesses. Data from self-service contributes to deeper insights into customer behaviors and preferences and enables targeted, personalized marketing.
Off-premises kiosks are one trend helping capture more sales and drive traffic. Installed inside nearby hotels or office buildings or in a high-traffic area of a mall or shopping center, off-premise kiosks make ordering and pick-up more convenient. Consumers appreciate placing orders and picking them up at their convenience rather than waiting in line at the counter, and restaurants have increased visibility, engagement, and revenues.
The number of consumers carrying coins and cash is decreasing, and their expectation for self-service is increasing. Car wash businesses that adopt frictionless payment experiences will win over the competition. A vertical that once depended upon employing an attendant or relying on coin-operated systems can now offer PCI-validated point-to-point encryption (P2PE) solutions that provide increased security to both the merchant and the customer. In addition, unattended payments give the consumer the convenience of choice to easily pay via their preferred method.
3. Electric Vehicle Charging Stations
The growth of electric vehicle (EV) adoption is driving the market for EV charging stations. Restaurants and retailers can benefit from implementing charging stations with unattended payments to provide an added convenience to customers and build a new revenue stream. As EV stations typically require at least 20 minutes for a vehicle to reach maximum charge, consumers will have the added benefit of shopping or dining as their vehicle charges while merchants increase traffic to their businesses.
4. Intelligent Vending Machines
Trends toward social distancing, contactless interactions, and self-service are fueling growth in the vending machine space. Intelligent vending machines can dispense products of all shapes, sizes, and price points, allowing retail merchants to innovatively get in front of new markets by installing machines in pop-up spaces. Merchants leveraging vending machines need solutions that can accept payment using smartphones with mobile wallets or cameras that can scan QR codes as well as debit cards and credit cards.
Benefits of Self-Service for Your Clients
Streamlined Labor Operations: Self-service kiosks help merchants operate more efficiently and overcome challenges created by the labor shortage. Merchants can add more order-taking and sales capabilities without increasing their workforces. Additionally, kiosks equipped with unattended payments can handle ordering and transactions, so managers can assign employees to higher-value work.


Increased Customer Spending:  On average, self-service kiosks can boost consumer spending by 30 percent. Kiosks consistently upsell, making all customers aware of deals and promotions. Also, kiosks allow customers to take their time and order exactly what they want rather than rushing through an order at a counter.


Enhanced Customer Experience: Self-service kiosks create consistency and accuracy, allowing consumers to engage with brands in new ways and new places. Providing a seamless and frictionless experience makes customer interactions quicker, easier, and likely to encourage return business.
Self-Service Kiosks Require Payments Functionality
One key to successfully implementing self-service kiosks for your merchants is to ensure they integrate with a robust payments solution. The best option is to provide your clients with one payment solution that enables transactions on all channels and to leverage multiple channels for a single customer journey. For example, the ability to scan a QR code to pay at a kiosk allows consumers to easily use a mobile wallet if they prefer.  
Integrating the self-service kiosk you provide with one payments solution for all transactions, including unattended payments, provides merchants with the greatest back-office efficiency and visibility into their customers and their businesses.
To learn more about offering merchants unattended payments as a part of an omnichannel payment solution, contact Datacap Systems.
Add Unattended Payments to new markets with Datacap!