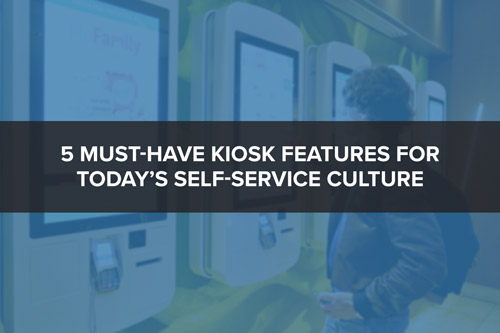 In the age of self-service, the need for interactive kiosks spans nearly every industry, from retail and restaurant to healthcare, government, hospitality, cannabis dispensaries, and more. It's not surprising the self-service market is booming, expected to grow at a 4.8 percent CAGR to reach $38.52 billion globally by 2028. To capture some of that market, ISVs and VARs need to educate themselves about available solutions, in-demand kiosk features, and how to find the right kiosk for each use case.
Here are five things to consider when offering solutions or consulting with clients looking for the best kiosks for their businesses.
1. The Right Kind of Touch Technology
Not all touchscreens use the same technology, and when it comes to kiosk features, capacitive touchscreens win over resistive screens that rely on pressure. Capacitive touch technology uses electrical impulses from the human body as the input, so a lighter touch can input data with greater accuracy. Additionally, capacitive touch screens' screen clarity and contrast reduce distracting reflections and are typically easier for customers or employees to use.
2. The Right Design for the Environment
When identifying the best kiosk features for a business' use case, it is vital to understand the environment where the kiosk will operate. If the kiosk will be used outdoors, it needs to withstand harsh weather and temperature conditions. Tempered glass protects the screen from damage, and kiosks should have proper sealing to prevent water and dust infiltration. Kiosks designed for outdoor use should also be tamper-resistant with features like extra weld points or compression locks. Additionally, if kiosks will be in direct sunlight, ensure that the display is bright enough for clear readability (typically more than 2000 Nits of light).
When implementing kiosks inside, the available space for the solution and functions it must perform will dictate the models you recommend. Work with your client to identify whether the kiosk will be free-standing, tabletop, or wall-mounted. Limited floor space may mean a wall-mounted kiosk or compact tabletop kiosk is the best option. Also, determine if the kiosk will need an integrated printer or other peripherals.
Also, discuss whether the kiosk should be constructed with antimicrobial materials. Businesses doubted whether people would shy away from using self-service kiosks when the pandemic began; however, over 60% of consumers prefer automated self-service for simple tasks. Regardless of whether your clients choose a model with antimicrobial features, making hand sanitizer available nearby kiosks for users can help them be more comfortable using a shared device.
Although the choice of kiosk hardware is essential to a successful implementation, software will give kiosk users the ability to accomplish the task at hand. Ensure the solution you provide has kiosk features, including:
User-friendly interface
Easy navigation
Minimal information per screen for an easy user experience
Logical and sequential steps to complete a task
Options that allow a user to request help if needed
Kiosk features should reflect your client's brand and provide customer experiences that align with face-to-face or digital engagements with the business. Consider the kiosk hardware's size, shape, and color and the brand experiences the software provides. The kiosk should also have a sleek design – no tangled cables that could put employee or customer safety at risk. Also, ensure it's portable if it's meant to be moved and used in different locations.
Kiosk features have evolved considerably to meet both advancing technology and customer expectations – and if a kiosk is designed for self-checkout, ordering, accepting healthcare copays, or accepting donations, consumers will expect to be able to use secure, convenient payment methods. Kiosks should accept, at a minimum, credit and debit card payments, and contactless and mobile wallet payments can make payment experiences quicker and easier. Also, talk to your clients about the benefits of alternative kiosk payment options like facial recognition or QR code payments.
Keep in mind that most of your clients won't only take payments at kiosks – they'll also accept card-present payments or enable transactions online, in-app, or on other channels. An omnichannel payments solution allows your clients to manage payments on all channels from one system rather than dealing with self-service payments separately at the end of the day. Give your clients the advantage of one payments solution that covers all of their needs for the greatest back-office efficiency.
Tailored Solutions Win More Business Compared to Off-the-Shelf Kiosk Features
When helping your clients implement self-service kiosks, tailoring the right solution to their needs will win more business for both you and your merchant than deploying a one-size-fits-all solution. Take the time to thoughtfully design a solution that will enhance your clients' branding, meet the needs of their customers from a usability standpoint, and integrate cleanly into business operations. Finally, ensure that kiosks have the robust payment features consumer demand.
To learn more about the value of integrating your solutions with an omnichannel payments solution that includes unattended payments, contact Datacap Systems.
Add Omnichannel Payments to your Kiosk Solutions!