Introduction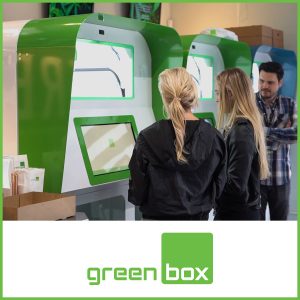 Erba Collective is one of Los Angeles' most beloved dispensaries. Erba prides themselves on craft cannabis with an emphasis on sustainable and organic growing techniques. Their product range features top quality, top brands, and a wonderfully diverse selection of cannabis and CBD products.
Manufactured in the United States, greenbox Robotics is the first fully automated cannabis kiosk. Greenbox Robotics has harnessed the most sophisticated automation technology to make your buying and selling experience fast, easy, and way ahead of its time.
Datacap Systems develops processor and hardware-agnostic innovative integrated payment solutions for any Point of Sale, regardless of system architecture. Industry-standard payment solutions from Datacap are utilized by hundreds of POS applications in an array of vertical markets.
Challenges
With an overabundance of foot traffic, Erba Collective needed a way to reduce wait times and increase customer turnover. greenbox Robotics needed a way to add cashless payments to their kiosks. So, Erba Collective and greenbox Robotics turned to Datacap.
Solution
Erba Collective uses greenbox's kiosks with Datacap's NETePay™ software and Ingenico's iSelf Series TRIO.
greenbox Robotics kiosks are intuitive and informative. Consumers can browse through Erba's catalog of products by filtering and searching, ensuring that they always find what they need. greenbox's kiosks feature a robotic arm, a gull-wing door for easy re-stocking and a temperature controlled storage unit.
Ingenico's iSelf Series TRIO allows easy and secure integration of cashless payments into self-service hardware via Datacap's payments engine. The iSelf TRIO is comprised of a PIN pad, NFC contactless reader, and a card insertion reader.
Datacap's NETePay routes card payment data directly to the credit card processor, completely isolating Erba and greenbox from having to interact with sensitive cardholder data.  
Results
Customers wait in line to use the greenbox kiosks at Erba Collective
"greenbox is terrific. They reduce our lines. It gives our customers a great experience," said Jay Handal, COO, ERBA Markets. He continued, "Customers can come in, get their products, pay and be on their way in a matter of minutes. greenbox will go along wherever Erba goes."
"Since rolling out greenbox, we've received a ton of interest from different brands. We see greenbox growing to the point where you could see one of these on every street corner in the United States," said Zack Johnson, Founder and CEO, greenbox Robotics.
If you happen to find yourself in Los Angeles, be sure to stop by Erba Collective to use a greenbox kiosk and check out the latest in payments technology!